Heathcoat Fabrics is revolutionising defence textiles with next-generation chemical, biological, radiological and nuclear (CBRN) protection.
The technical textiles manufacturer will be demonstrating its unique capability and commitment to CBRN solutions at DSEI London from the 10–13 September 2019.
The global demand from military and first response personnel for ground-breaking protective technologies has risen significantly in the last decade. CBRN protection has been a key focus for Heathcoat Fabrics and its latest product is the development of unrivalled CBRN adsorption system solutions for textiles.
Heathcoat Fabrics manufactures an extensive range of advanced technical textiles across multiple functions in the defence market. In the last decade, the company has had direct involvement in developing CBRN fabric technology, specifically the controlled impregnation of fabrics with next-generation adsorption media options.
Having the technology to successfully impregnate a wide range of woven, non-woven and knitted fabrics with Heathcoat own or customer-specific adsorption media options – activated carbons, combination and blends or enhanced formulations for increased wash fastness – is a core proficiency of the specialised business.
The UK-based manufacturer places great significance on the safety of soldiers and understanding the science and technology required to counteract the latest in toxic contaminants has been crucial for new product developments.  With state-of-the-art research and development facilities, the Company offers a range of disruptive and non-disruptive printed outer fabrics. Praetor-FR is its unique 100% aramid solution with proven results confirming higher durability, abrasion resistance, wash fastness and UV resistance unmatched by any other products on the market.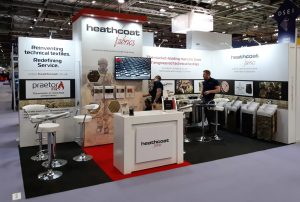 DSEI attendees are invited to visit Heathcoat Fabrics at stand N3-160
#DSEI2019