Heathcoat Fabrics have always been at the forefront of textile innovation and our Research & Development team have pulled out all the stops to develop a coronavirus-beating fabric treatment. The new wash-durable anti-viral finish can be applied to their extensive range of woven and knitted fabrics suitable for industrial ppe, healthcare, face coverings, industrial workwear, defence and first responder apparel, and more. This strategic development provides the opportunity for an additional, reassuring layer of protection for personnel in all sectors facing a Covid pervaded world.
Growing environmental concern around the impact of disposable single-use face masks has highlighted the obvious benefits of reusable, washable fabric masks for personal use. With >98.8% ISO 18184 tested virus kill, Heathcoat's new wash-durable anti-viral treatment combined with woven 100% Supima Cotton offer a perfect sustainable choice for reusable face coverings.
Business Manager John Stimpson said,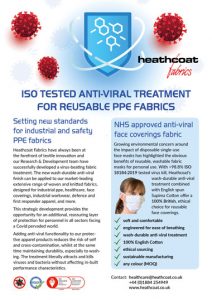 "We desperately wanted to add #antiviral functionality to our existing face mask products to reduce the risk of self and cross-contamination, whilst at the same time maintaining durability, especially to washing. The system that we are using literally attracts and kills viruses whilst maximising breathability, without compromising filtration performance".
Heathcoat also supply anti-viral, NHS approved design, 100% English Cotton face masks, with branded options available. Minimum order quantities apply.
All enquiries to healthcare@heathcoat.co.uk