Wearing a face covering in shops and supermarkets in England is to become mandatory from 24 July.
It is already compulsory to wear face coverings on public transport and the general advice is also "that people should aim to wear a face-covering in enclosed spaces where social distancing is not always possible"
Our textile face masks are available to purchase for your staff or personal use, whether working in care, utility, retail or manufacturing.
"really comfortable"

"thank you, they stopped me from getting sore ears"

"beautifully made and very comfortable"

"it's great that they are reusable!"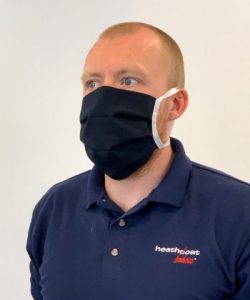 – Anti-viral mask and snood options
– 100% English spun cotton and Nomex comfort options
– Design approved by NHS
– Hand made in Devon!
– Pleated to cover lower face
– Ties ensure a secure, comfortable fit (ear loop option also available)
– Machine washable at 60°
– Reusable
– From £4.00 plus VAT
– Min order 10 masks
– Quantity discounts available
Alongside our extremely popular standard cotton option, we are also offering a unique reusable fully flame-retardant option, designed for utility companies which socially-distanced working is not always possible. This option is also proving highly popular in general manufacturing environments.
---
Textile face coverings are not a replacement for medical or industrial PPE (Personal Protective Equipment). These non-medical face masks can be used as an aid to social distancing, not a substitute and should be used in combination with frequent hand-cleaning with soap and water or alcohol-based hand rub. These masks are not intended for use as a surgical mask or specialised N95 mask.
To order email healthcare@heathcoat.co.uk
#covid19 #facemasks #facecovering #anti-viral