The latest life-saving development for paraglider and paramotor pilots uses our DecelAir Superlight parachute fabric in a rescue chute that supports loads of up to 170kg weight.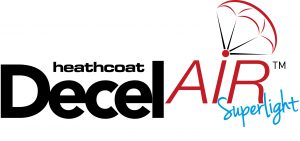 Paragliders need reduced weight in the air while maintaining strength in the rescue chute for a safe descent. To meet the required specification, there is only one product on the market: our incredible DecelAir Superlight at just 21gsm.
The special heart-shape designed by the manufacturer, precision calendering applied during our finishing, and particular folding technique help it to open up to 50% faster than normal round canopies. So far, the new chute is setting records for its opening speed and steerability. The steerability provided by our fabric allows for a safer descent should a paraglider, unfortunately, get in distress.
Building on our unique knowledge and high-profile successes gained from working with the space industry, our DecelAir development team are keen to explore other opportunities for further expansion of our parachute range within the leisure industry.
Contact our parachute experts: