19-22 September 2019
Located in St Hilaire in the French Alps is the Coupe Icare festival; a festival celebrating all things parachutes, and home to the weird and wacky! Amongst the amazing canopies and the masquerade flights, Heathcoat Fabrics will proudly display some of our most advanced parachute fabrics.
The festival takes place over four days and is a great opportunity for our staff to meet with leisure and professional flyers. Heathcoat has been attending the Coupe Icare event for many years, showcasing our parachute fabric advancements. We have a truly unique position in the marketplace in that we are the only parachute fabric manufacturer to design and specify our own exclusive yarns for this market. For parachute designers, giving an unmatched advantage of specifying their requirements and engineering unique properties into our yarn prior to weaving.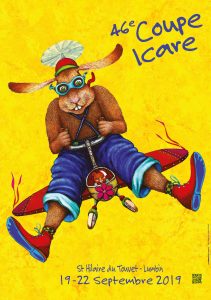 Our latest technology for the specialist military and space parachute market can be seen in our DecelAir Superlight and Ultralight fabrics with weights of just 20gsm or less. Heathcoat fabrics market its extensive range of specialist parachute fabrics under its DecelAir brand and are an active member of the PIA – Parachute Industry Association.
If you would like more information, don't hesitate to email our team at decelair@heathcoat.co.uk