Techtextil is the leading European international showcase for technical textiles. 
Heathcoat Fabrics are at the forefront of technical textile development. Redefining Technical Textiles was our bold headline show statement and one which we are proud to shout out. Not only redefining but in a sustainable manufacturing environment. That's two big statements for the price of one!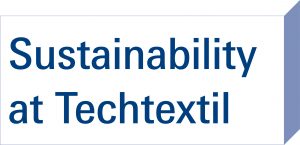 The future success of Heathcoat Fabrics comes from proactively finding responsible ways to manufacture our products. The means to foster a culture where sustainability permeates through everything we do.
We are committed to exploring how products and business practices can address global challenges. Believing in careful management of energy, waste, chemicals and natural resources is vital to securing a prosperous future for our Company. Our business is also dedicated to going a step further, by continuously striving to improve the environmental credentials of our supply chain.
Our progress towards a sustainable future includes:
Our goal is zero-waste-to-landfill
Investing in training our employees so everyone is collectively building up our green culture
Utilising our on-site electricity generation, we have reduced imported energy by 60%. through a combination of our solar panels, hydro generation and combined heat and power plant.
Developing ways to maximise the efficiency and longevity of our products in relation to end-of-life recyclability
Reviewing the environmental impact of our raw materials
Where possible pursuing textile development around the use of recycled and more environmentally sustainable materials
Making time to educate local students on the importance of working in a sustainable way. Our technical fabrics provide greener solutions for the sustainability of our customer's products
Collaborating with suppliers and customers to ensure an ongoing reduction in packaging waste
Alongside our environmental focus, we have been highly active in new product developments, launching three new ranges at this edition of Techtextil.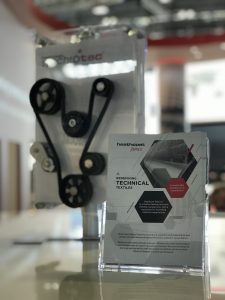 Praetor-FR – our latest innovation for defence and PPE; a world-first. This ultra-durable Disruptive Print Material (DPM) is made from 100% aramid fibres and offers the ultimate in heat and flame protection. Originally conceived for defence apparel the Praetor-FR technology can be utilised on any aramid fabric, widening its unique benefits to all PPE sectors.
A revolutionary flame barrier concept from Heathcoat Fabrics, Safe-T-tec offers a range of innovative fire resistant 2D and 3D fabric developments using covered silica yarns.
The use of such yarns in warp knitting technology is a new concept providing the potential for a variety of innovative effective performance fabrics. Bespoke engineered designs are available alongside aramid, PEEK and silica compositions.
The prime benefit from this concept is exceptional protection from direct flame and heat sources and has been tested to conformance standards EN 14116 index 3, FAR 25.853 (12-second burn) and BS 5852 (Crib 5) as an indication of its positive protective merits. The 3D product has been further tested and meets Federal standard FR1633.
Markets to potentially benefit from this innovation include Aerospace, Automotive, PPE, Furniture and a multitude of general market sectors.
Heathcoat Fabrics were also proud to announce new developments from their working partnership with Honeywell, using Spectra Fibres. Together, we have developed a superior level of PPE attire for both civil and military applications.
If you missed us at Techtextil, send us a message on our contact page or give us a call. 
For press editorial please email marketing@heathcoat.co.uk