Heathcoat Fabrics welcomed the Lord-Lieutenant of Devon David Fursdon accompanied by the High Sheriff of Devon Richard Youngman and Deputy Lieutenant Philip Bostock to present their prestigious Queen's Award for Enterprise for Innovation at a ceremony held within one of their key production areas for parachute fabrics at their Tiverton site.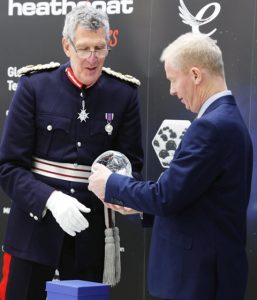 Receiving the award on behalf of the company, Cameron Harvie MD said: "We are delighted to be presented with such a prestigious award. Our success is down to a lot of hard work from the whole team. It's fantastic when these projects come off, and I'm very proud of everyone at Heathcoat Fabrics. NASA had faith in our capability, and it's great that we delivered for them. Building on this success, we are working together on new and even more challenging projects".
The company developed a high-performance parachute fabric that has contributed to outstanding commercial success, including delivery of NASA's Perseverance Rover onto the surface of Mars in February 2021.
These innovations have opened the door to other niche space exploration projects, including returning cargo and astronauts from the International Space Station and ensuring the safe splashdown of a capsule containing the first all-civilian team to orbit the Earth.
Cameron Harvie went on to say, "Innovation underpins the technical textiles that Heathcoat develops, with new opportunities frequently emerging in niche markets where needs are not met by existing methods and products."
Peter Hill, Director for Woven Fabrics said: "The development team excelled, working tirelessly with NASA and others to ensure Heathcoat was able to deliver on their requirements. Our development engineers are at the forefront of new and exciting textile technologies in space exploration that have gained global recognition, as well as other developments within our business including sustainable/renewable fabric solutions,"
Coinciding with the presentation, we were also pleased to welcome a delegation from NASA Jet Propulsion Laboratory, visiting our site to witness the first trial parachute fabric being produced on one of the recently installed extra-wide airjet looms, for their next Mars mission, when they will send the Mars Sample Retrieval Lander (MSRL) to pick up samples collected by the Mars2020 Perseverance rover, for return to Earth.
Three keen science students from Tiverton High School were invited to attend the presentation event and given a unique opportunity to participate in a question-and-answer session with the visiting delegation. Lottie asked how parachutes are tested to work in a different atmosphere and at such high speeds. Alfie wanted to know how we make our material stronger and the challenges we faced; while Gil was inspired to ask how young people can get involved in space exploration as a career. One answer could be to become a textile engineer at Heathcoat Fabrics!