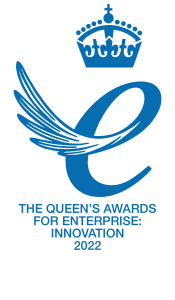 Heathcoat Fabrics has been recognised with the Queen's Award for Enterprise for Innovation, announced by the Government today (April 21, 2022).
The Queen's Awards for Enterprise are the most prestigious business awards in the UK. The awards were first established in 1965 and since then over 7000 companies have achieved a Queen's Award.
The awards celebrate the success of exciting and innovative businesses which are leading the way with pioneering products or services, showing their commitment to excellent sustainable development practices.
Our unique expertise in developing high strength, lightweight parachute fabrics is now known globally, particularly within the space industry and perhaps most famously, our contribution to the landing of NASA's Perseverance Rover onto the surface of Mars in February 2021. Heathcoat Fabrics is among a list of 51 companies that have received the innovation award this year.
"We provided the veiling fabric for Queen Elizabeth's royal wedding in 1947, and it is perhaps fitting in her jubilee year that she has personally approved our Queen's Award for Enterprise."

Cameron Harvie, Managing Director
The innovation has opened the door to other niche space exploration projects, including returning cargo and astronauts from the International Space Station and ensuring the safe splashdown of a capsule containing the first all-civilian team to orbit the Earth.
We have been making parachute fabrics since the early 1930s, originally under the P.A.K. Parachute brand.  In 2015 we launched a new, 'DecelAir Superlight', development at the Parachute Industries Symposium which was spotted by NASA, who saw the potential of this new fabric and after setting us a challenge to make it even stronger, we began trials a year later.
That early work was spearheaded by Peter Hill, director for woven fabrics, with Eleanor Newsome, development manager, picking up the challenge to meet (and exceed) NASA's technical specifications.
The baton has now been passed to other members of the parachute fabric team who between them not only deal with new projects for NASA, but also for multiple space agencies and private space exploration companies.
Peter said: "The parachute fabric development team excelled, working tirelessly with NASA and others to ensure Heathcoat was able to deliver on their requirements. They're at the forefront of new and exciting textile technologies in space exploration that have gained global recognition, as well as other developments within our business."
Heathcoat's 'DecelAir Superlight' fabric has commercial success in the wider aerospace and military industries, such as in emergency chutes, paraglider reserve chutes and parachute recovery for drone delivery systems.
The Queen's Award for Enterprise is now in its 56th year and is widely recognised as the most prestigious business award in the UK. Heathcoat Fabrics is one of just 226 businesses recognised for excellence in the 2022 awards in categories including innovation, international trade and sustainable development.
---
For a copy of our full press release relating to Heathcoat's recognition with the Queen's Award for Excellence: Innovation, please download here.